Woman wearing burqa allegedly robs Subway in Melbourne's east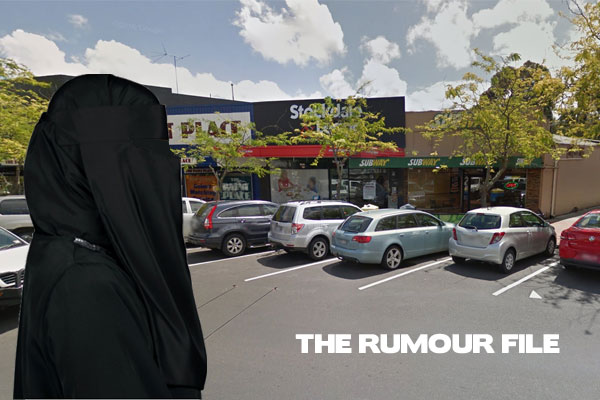 RUMOUR FILE CONFIRMED
A woman has been charged after allegedly robbing a fast food outlet while wearing a burqa in Melbourne's eastern suburbs.
Police have been told a woman, wearing a full length gown with her face and head covered, entered the Subway store on Main Street, Croydon, shortly after 5.30pm on Saturday.
She was allegedly armed with a knife and demanded cash.
It is further alleged a victim handed over a quantity of cash and the offender left the store.
Nobody was hurt during the incident.
A 38-year-old Frankston man was charged with armed robbery and associated offences.
He's been remanded to appear in Melbourne Magistrates Court on Friday.
A woman has been charged over an alleged armed robbery – committed by a person wearing a hed covering similar to a burqa – at Croydon.
The incident happened at a fast food outlet in Main Street on Saturday afternoon.
Tonight, Narre Warren woman, 21, was also charged over the incident.
The pair has been charged over three other armed robberies, at a fast-food outlet on Breed St in Morwell, a service station in Morwell and a business in Traralgon on Monday.
Karen's granddaughter works at the Croydon store.
She told Ross and John her granddaughter got a shock when police arrived looking for CCTV on Sunday morning.
Click PLAY below to hear more on 3AW Breakfast