Yarraville truck protest to block Williamstown Road and Francis Street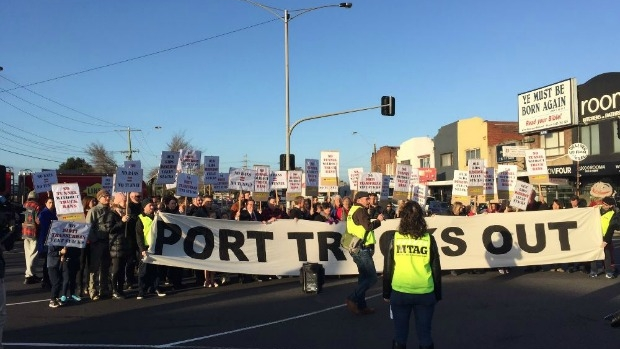 Around 100 residents gathered at a major thoroughfare in Melbourne's north-west this morning to protest trucks using their streets.
The Maribyrnong Truck Action Group blocked the intersection of Williamstown Road and Francis Street in Yarraville at 8am, leaving traffic in the area in chaos.
The group fears trucks will continue to use local streets to avoid tolls once the Western Distributor is built.
Martin Wurt from the group told Ross and John the community had suffered enough.
'We've got a big problem already with trucks avoiding a toll of $5.50 to go over the Bolte Bridge and stay on the freeway,' he said.
'So if the Western Distributor is going to have a toll of $13 I think it's pretty obvious what truck drivers are going to do , they are going to avoid that toll.
'We are saying if you are going to spend $5.5 billion on this new freeway, let's get the trucks off this freeway once and for all.'
The road has since re-opened.
Click PLAY to hear more on 3AW Breakfast: