WRAP: Richmond kicks off its flag defence with a win in front of record crowd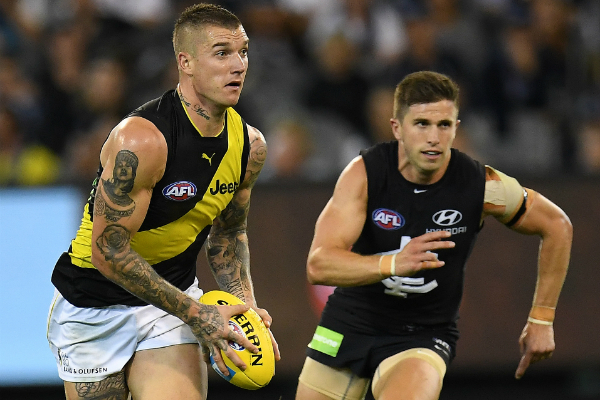 TODAY'S LINE-UP: Leigh Matthews, Jimmy Bartel, Caroline Wilson, Dwayne Russell, Bruce Eva, and Tom Morris.
Photo: Julian Smith / AAP
=====
Carlton benefitted from a number of 50m penalties during the game, with the umpires keeping a close eye on the protected area.
Blues star Dale Thomas told 3AW the umpires went through it with clubs before the season.
"They're pretty hot on it for the first couple of rounds," he said.
"We'll take it!"
Click PLAY for the full interview
=====
FULL TIME 
Richmond has started its premiership defence with a win, but they didn't have it all their own way.
The Tigers had to fight back from 29 points down early in the match to beat the Blues by 26 points.
A massive crowd of 90,151 packed into the MCG – an all-time Round 1 record.
Leigh Matthews said Carlton was the story of the match.
"It was more of the same from Richmond," Lethal said.
"The story was Carlton, I reckon. Where are they going?
"I feel they lack run."
Jimmy Bartel said the Blues need to work on how to avoid turnovers becoming scores.
Click PLAY for the full wrap with Jimmy and Lethal
=====
HALF TIME
Carlton has led all game so far after an early five-goal blitz.
Matt Wright has three goals and Patrick Cripps has racked up 22 touches for the Blues.
Leigh Matthews said watching Cripps and Dustin Martin play has been captivating.
"Martin's been really damaging," Lethal said.
"I don't think Cripps is as good with ball in hand.
"That's probably the growth in him."
Click PLAY for the half-time wrap
=====
THE BUILD-UP
At long last, the AFL season has arrived!
Richmond and Carlton will kick the season off in their traditional slot, with a bumper crowd expected at the MCG.
And the biggest occasion deserves the best coverage!
Follow every moment with the No. 1 commentary team in the game on 3AW Football.
BELOW: Follow live commentary highlights throughout the weekend.