EXCLUSIVE FOOTAGE: Violent cruise ship brawl captured on camera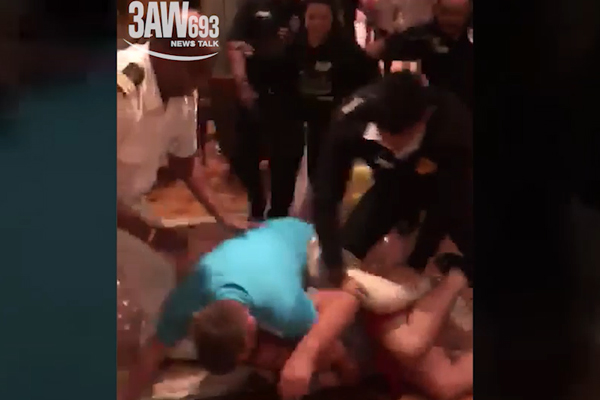 UPDATE
Troublemakers on the 'Legend' Cruise ship have been removed by NSW police.
Officers boarded the ship at Eden, just south of Merimbula on the New South Wales south coast, and moved about ten men onto a smaller boat.
EARLIER
The Neil Mitchell program has obtained exclusive vision of a violent brawl involving passengers and security staff on board the 'Legend' Carnival Cruise ship.
WARNING: Graphic vision
3AW was then contacted by another passenger, who filmed another exchange between passengers and staff.
Cassie told 3AW this fight involved the same group of people, the day before the nightclub scuffle (above).
WATCH: Poolside fight between passengers and security
Passenger Michael (below) was kicked while lying on the ground, and received cuts and bruising to his face, back and legs.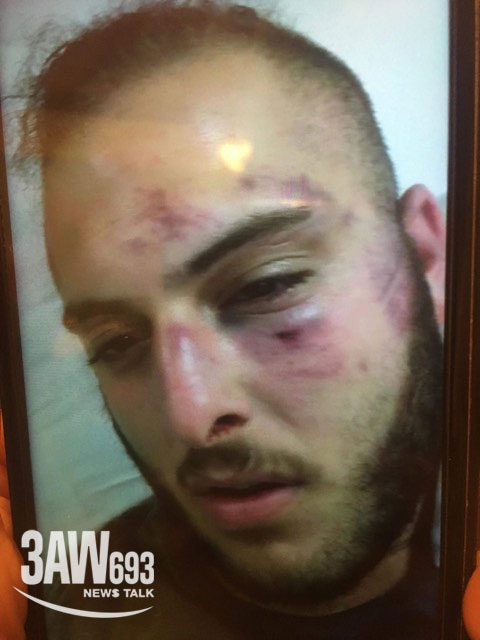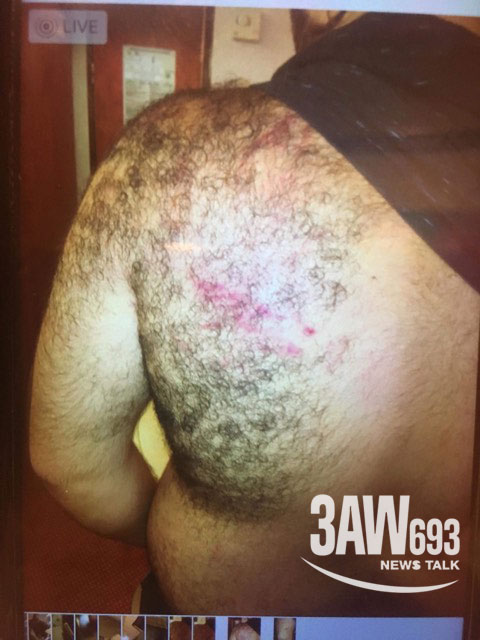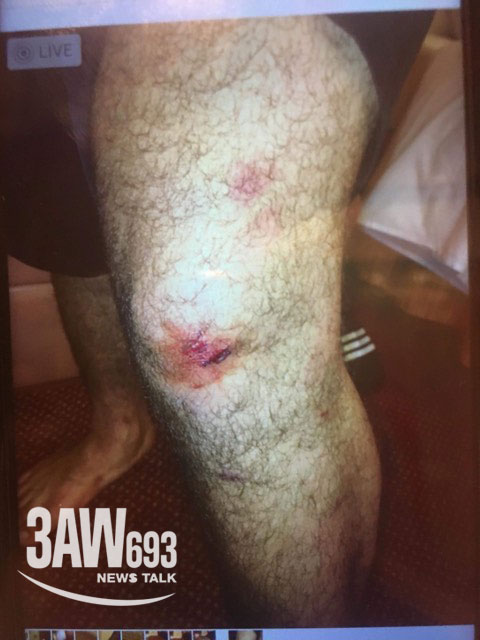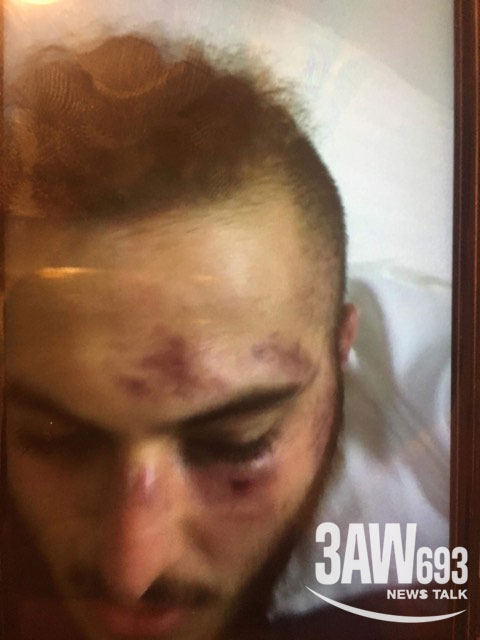 In what's been described by passengers as the "cruise from hell", there are reports as many as 30 people have been injured, with one particular family group targeting other passengers.
Katie* is on board with her husband and three children aged, 11, 9 and 6.
She told Neil Mitchell trouble has been brewing for days.
"They were looking for trouble from the minute they got on the ship," Katie said.
"My husband said to take it away, because there's kids here, and five of them surrounded my husband.
"They told us to watch our backs."
Click PLAY below to hear from Katie
Katie said there are about 30 people causing trouble, some of whom are now locked in a cabin two doors down from her family.
The ship has docked at Eden, NSW where police are waiting to remove the troublemakers.
It's believed about 15 people have been taken off the ship by police.
Carnival Cruises are refusing to speak on air but provided 3AW with a statement (below).
Upon release of the video, 3AW Mornings again asked the company for comment.
They sent the same statement, praising their "highly trained security staff", with one sentence added.
"We asked NSW Police Marine Area Command to attend Carnival Legend in Eden to remove a family group of passengers from the ship."
David Barkho, whose son was caught up in the violence told Neil Mitchell he got a call from his injured son at 1am asking him to call the police.
"He said, 'Please Dad, please, call the Federal Police'," David said.
"I could hear a lot of screaming, crying in the background."
Click PLAY below to hear the full details
David's son George, 20, said he could see "a lot of people bleeding, a lot of people down on the ground".
David also said security staff have attempted to censor the situation.
"He (George) said, 'The security came in and took his phone, and deleted a lot of images from his phone'," David said.
Incredibly, it's the same cruise ship that an ill crew member had to be airlifted from last week.
The ship returns to Station Pier in Melbourne tomorrow morning.
Carnival provided 3AW with the below statement.
Safety is the number one priority for Carnival Cruise Line, we take a zero tolerance approach to excessive behaviour that affects other guests and we have acted accordingly on Carnival Legend.

The ship's highly trained security staff have taken strong action in relation to a small group of disruptive guests who have been involved in altercations on board.

The ship's security team is applying our zero tolerance policy in the interests of the safety and comfort of other guests.

Carnival Legend is currently on a 10-day South Pacific cruise scheduled to be completed in Melbourne tomorrow where the ship is currently homeported.
*not her real name