Devastated: At least 10 homes lost in south-west fires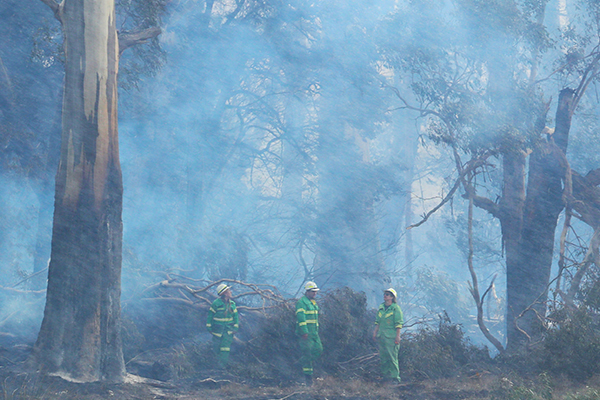 Fire-ravaged communities in the state's south west are today counting the cost of the weekend fires.
At least 10 homes have been destroyed in the blazes at Penshurst, Garvoc, Terang and Camperdown, which began on Saturday night with tens of thousands of residents receiving warning messages on their mobile devices.
Click PLAY for the latest update from Tony Murphy, Duty Officer for the State Control Centre
Emergency warnings were downgraded around 5pm yesterday but hundreds of people have spent a second night away from their homes while crews worked through the night to bring the fires under control.
The Insurance Council has declared the bushfires a catastrophe.
A significant amount of livestock have perished.
The army has been told to have generators on standby to help farmers continue working.
Chief Commissioner Graham Ashton says the investigation into the cause of the fire is ongoing.
"We're most likely looking at lightning but it needs to be properly investigated," he said.
The Mapping team at the State Control Centre have put together this image showing the enormous scale of the fires that are still currently burning in the S West of #Victoria.#Garvoc fire 4,064 hectares would stretch from #EssendonAirport through the CBD to #Prahran#vicfires pic.twitter.com/Ko52EpXmeq

— VicEmergency (@vicemergency) March 18, 2018