Extinction Rebellion protester returns to 3AW Drive (nine days into his hunger strike)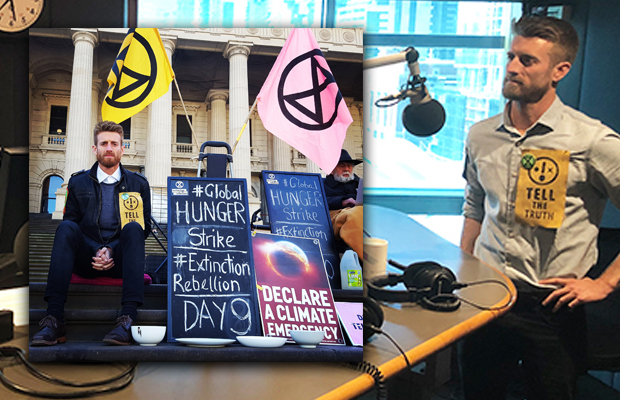 An Extinction Rebellion protester who hasn't eaten for the past nine days says he's lost "about seven kilograms" during his demonstration.
Daniel Bleakley, who has been on a hunger strike on the steps of state parliament, told Tom Elliott he hoped he'd inspired more people to raise awareness about climate change.
"I've lost about 7 kilos," Bleakley said in studio.
This is @DanielBleakley1. He has been on a hunger strike for nine days. I admire his conviction. He's looking forward to a pizza once all of this is over! pic.twitter.com/PIb4c1jckH

— Tom Elliott (@TomElliott3AW) November 27, 2019
Click PLAY below to hear more on 3AW Drive
INSET PICTURE: (Twitter / @DanielBleakley1)