Thick smoke haze set to linger across Melbourne until tomorrow evening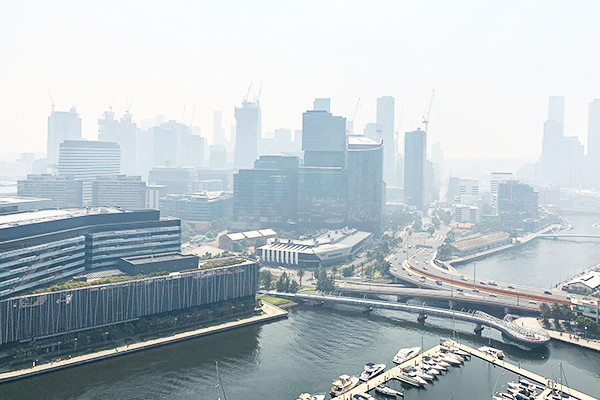 Melbourne woke to hazardous levels of thick smoke on Tuesday, and the air quality isn't set to improve until Wednesday evening.
The air quality index rated the air pollution in the suburb of Brighton as 655 on Tuesday morning; compared to 380 for Delhi, 55 in Canberra and 159 in Shouguang, the Chinese city often considered to have the worst air pollution in the world.
The EPA has warned air quality on Wednesday will reach hazardous levels in Melbourne for the second day in a row.
Updated air quality forecast for today and the next 3 days.

MODERATE to HAZARDOUS conditions are forecast. EPA advises people to take care & stay indoors away from smoke where possible.

For up to date air information visit: https://t.co/hUboaTpnyd pic.twitter.com/bnngQ6w9Jj

— EPA Victoria (@EPA_Victoria) January 14, 2020
Health authorities have urged those with asthma and other respiratory issues to take precautions.
The opening match of the Kooyong Classic, between Maria Sharapova and Laura Siegmund was called off mid-play due to the poor air quality.
Horse racing scheduled for Werribee was also cancelled.
Nine News reporter Christine Ahern also revealed the MFB responded to 178 false alarm reports on Monday night.
Fog horns woke residents in Yarraville and Spotswood as ships tried to make their way through the heavy haze.
Melbourne's city baths were closed for the morning and redevelopment works at Melbourne Airport were cancelled.
Our boss just sent us this photo.

His car thinks there's deep fog!

Latest on the smoke: https://t.co/203JPUaysr pic.twitter.com/cTEDsoEGGU

— 3AW Breakfast (@RossAndJohn) January 13, 2020
As an indication of how thick the smoke is, 3AW sports reporter Jordan Tunbridge told Ross and John that an air purifier in his bedroom rated the air quality as a 999 — despite the fact the legend on his machine says 'extremely poor', the worst score, is 151-250.
Click PLAY to hear Jordan explain
Photos: Eerie 'red orb' starts another smoky day in Melbourne