How Tim Smith's drink-drive smash will 'shake the foundations' of Matthew Guy's leadership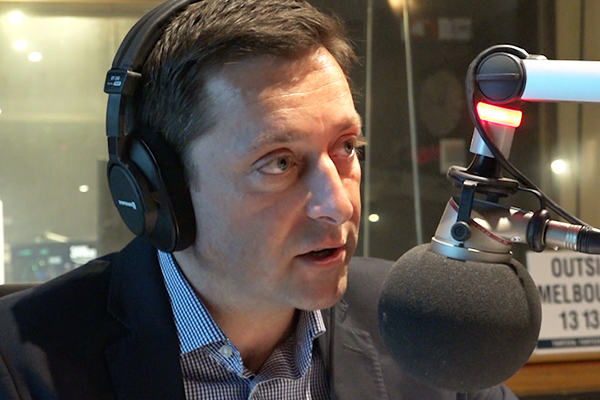 Tim Smith's drink-driving crash on the weekend will "shake the foundations" of Mr Guy's leadership of the Victorian opposition, a political expert says.
The Kew MP collided with another car in Hawthorn on Saturday night, and blew 0.131 – more than double the legal alcohol limit – on an evidentiary breath test.
He's since quit the shadow cabinet in disgrace.
Matthew Guy is now under pressure to persuade Mr Smith to step down from Parliament.
Speaking at a press conference this morning, Mr Guy said he's "bitterly disappointed" by Mr Smith's actions, and the Kew MP will consider his political future in the next 24 hours.
Senior lecturer in politics at Monash University, Dr Zareh Ghazarian, says the drink-drive incident is "a huge problem for the party".
"I think this is a huge setback for his political career and it's a really big blow for the political party in this state, as well, as they gear up for the election that's due in just a year," he told Tony Jones, filling in for Neil Mitchell.
"Mathew Guy has come in as new leader, the expectation is that he'll take a very disciplined, very strong team to the election, and when you have these sorts of things happening they're really going to shake the foundations of his leadership."
In 2018, Mr Guy told Liberal member for Western Victoria, Simon Ramsay, to "reflect upon his future going forward as a member of parliament", after he was caught drink-driving.
Dr Ghazarian says the opposition leader must take the same hardline approach with Mr Guy.
"What has to happen, if Mr Guy is going to be seen to be that genuine, hard-lined disciplined leader of the party, is he has to apply those same sorts of standards," he said.
"He's gone some way towards doing that but he's stopped short of saying Mr Smith's time in Parliament is over."
Press PLAY below to hear Dr Ghazarian's view on the challenge Mr Guy faces