Swans slip into fourth with thrilling win over Adelaide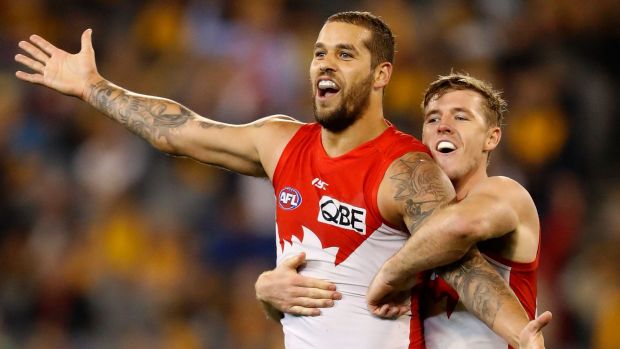 TODAY'S LINE-UP: Matthew Lloyd, Tony Shaw, Dwayne Russell, Bruce Eva, and Nick Butler.
=====
THE WASH-UP
Swans coach John Longmire spoke to 3AW Football about Lance Franklin's magical goal.
Longmire said Franklin is a "pretty handy" player.
The former Kangaroo forward, who had front-row seats to another champion in Wayne Carey, said both players are fierce competitors.
"They're different players, but the impact on a game they have is quite similar," he said.
Longmire refused to be drawn into a conversation about last night's umpiring.
Josh Kennedy spoke to the umpires at 3QT.

Tim: "To tell them what a good job they were doing?"

Longmire: "Something along those lines."

— 3AW Football (@3AWisfootball) August 19, 2017
Click play for the full interview
=====
FULL TIME
Sydney has won a Friday night thriller by three points.
Lance Franklin booted three goals – including a stunner reminiscent of his famous Goal of the Year against Essendon.
He's done it again!

Buddy kicks a goal IDENTICAL to that goal he kicked against Essendon and the Swans are back in front. #AFLCrowsSwans

— 3AW Football (@3AWisfootball) August 18, 2017
The Swans will wake up in the Top 4, pending later results in the round.
Click here for match highlights 
=====
HOMETOWN BIAS?
A lopsided free kick count has again raised eyebrows.
After Geelong received the lion's share of free kicks against Richmond at Simonds Stadium last week, Adelaide "won" the free kick count 28-14 at home on Friday night.
And people have noticed:
Beva: "Is #FreeKickAdelaide trending yet?"

— 3AW Football (@3AWisfootball) August 18, 2017
Never seen it this bad and were still in front

— Alex (@Darrkyyy) August 18, 2017
Embarrassing umpiring

— strings2273🏆🔴⚪️🔵 (@Strings2273) August 18, 2017
Media focus too much on count. Maybe it is 22-6. Watching the game don't think they have missed many or paid incorrect ones. Is what it is

— Jason W (@JRW1973) August 18, 2017
Adelaide have 3 extra players tonight with these umpires. Would be an incredible win by the Swans. Disgraceful umpiring. #aflcrowsswans

— Brad Klibansky (@BradKlibansky) August 18, 2017
The 23rd man out in force tonight. #aflcrowsswans #freekickadelaide

— Joe Hogan (@j__hogan) August 18, 2017
The Horse has got his cheque book ready for the post match presser #freekickadelaide #AFLCrowsSwans

— Lewin Eddy (@Lewin_e) August 18, 2017
#FreekickAdelaide 18-5,exactly what Dimma pointed out last week with home town decisions. #AFLCrowsSwans

— Mick (@mjb1963) August 18, 2017
=====
HALF TIME
Sydney leads by eight points at the main break.
The Swans made a fast start and led by 29 points early in the second term before the Crows switched on.
Matthew Lloyd said the Crows have done really well to overcome a "soft" start.
"It's game on now," Lloydy said.
Click play for the half-time wrap
=====
Veteran Adelaide journalist Michelangelo Rucci joined the 3AW commentary box before the game.
He played a game of "stay or go" with some high-profile Crows, including Jake Lever, Mitch McGovern, and Charlie Cameron.
Click play for more
=====
THE BUILD-UP
Two of the competition's most in-form sides meet on a massive Friday night.
The biggest matches deserve the best commentary, and there's none better in the game than 3AW Football.
Join Lloydy, Shawry, Dwayne, and the team from 6pm, with Rex Hunt's Footy Nightline after 11pm.
3AW IS football!
BELOW: Follow live commentary highlights throughout the weekend.