Collingwood beat North by nine goals amid heavy injury toll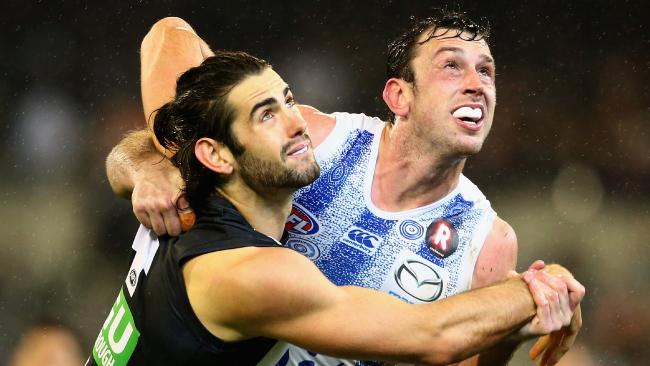 HOW TO LISTEN ON OUR WEBSITE
NEW! Sign up to stream our footy broadcasts directly from the 3AW website
You can also still stream from the AFL app and website as per usual.
TODAY'S LINE-UP: Matthew Lloyd, Daniel Harford, Mick Warner, Bruce Eva, Shane McInnes, and Tiff Cherry.
=====
THE WASH-UP
Stars Taylor Adams and Jack Ziebell spoke to 3AW in the rooms after the clash.
Adams said Brodie Grundy doesn't feel well about the tackle that saw Ben Brown stretchered off the ground.
"There was no malice in what he did," Adams said.
"Deep down at heart he's a really soft bloke."
Click play to hear more from Adams 
Ziebell suffered a minor injury during the first half, but soldiered on to kick five goals.
He said the medical staff just had to be cautious.
"There's a few important things under the ribcage," Ziebell said.
Click play to hear more from Ziebell
=====
FULL TIME
Collingwood has won by nine goals but, in truth, it was a poor match.
Disposal efficiency was poor all night as the clanger count mounted.
Jarryd Blair finished with three majors for the victors, while Adam Treloar and Taylor Adams were typically prolific in midfield.
Jack Ziebell played a lone hand for North, booting five goals after injury forced him into a forward role.
Both sides suffered some notable injuries, including Ziebell (ribs), Ben Brown (head knock), Levy Greenwood (knee), and Tyson Goldsack (concussion).
Click play to hear the injury wrap with Tiff Cherry
Click play for match highlights
=====
HALF TIME 
Collingwood leads by 26, but it's been a poor match.
Fans were vocal on social media about the quality of the play:
@afl I want my money back! #AFLNorthPies

— Dean Zammit (@DeAn_ZaMmiT) August 5, 2017
#AFLNorthPies for the love of god i hope the kangas are tanking and are not actually this bad. #loosingmymind

— Dan Slater (@disturbed_dan) August 5, 2017
This game is an abomination. #AFLNorthPies

— Patrick Kennedy (@patkennedy17) August 5, 2017
Worst game of footy ever!#AFLNorthPies

— Charley Horse (@CharleyHorse_) August 5, 2017
There was a moment of controversy, however, when Ben Brown left the field on a stretcher after a strong Brodie Grundy tackle left him dazed.
Former Tribunal member Daniel Harford likened it to the incident which got Patrick Dangerfield suspended last week.
But he said Grundy's tackle looked better than Dangerfield's.
"He's got the ball for the majority of the tackle," Harf said.
"It's much more of a football action. It was less unreasonable in the circumstances."
Click play to hear how it played out
=====
North has made a late change tonight.
Jy Simpkin is withdrawn, with Josh Williams his replacement.
Collingwood is unchanged.
=====
THE BUILD-UP
The Roos and Pies may not be finals-bound, but both sides have plenty of reasons to keep winning.
With the pressure building on their respective coaches, every set of four points is invaluable.
Follow every moment of this clash with the No. 1 commentary team in the game on 3AW Football!
BELOW: Follow live commentary highlights throughout the weekend.