Footscray fire could burn for "3 or 4 days" as smoke continues blanket western suburbs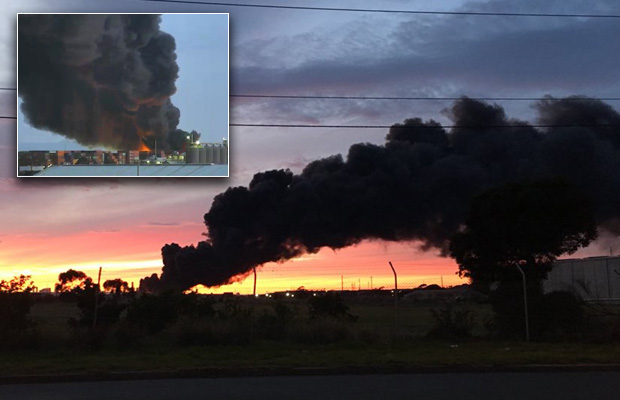 IMPORTANT: This rolling coverage is no longer being update – Click HERE for 3AW's latest updates and warnings
6PM UPDATE
Fire crews warn the Footscray factory fire could burn for a number of days, as official advice remains for residents to stay indoors.
7 News reporter Michael Scanlan told Tom Elliott the fire is under control, but is still burning at the centre.
"They said it could be three or four days before it's extinguished," he said.
"The investigation is going to be really difficult, all the evidence that is key is burnt.
"The thick black plumes have dissipated down to grey now.
"Compared to what it was this morning it's maybe a quarter of the size, but it's still massive."
The MFB have confirmed two waterbombing aircraft are on the way to the scene.
Click PLAY below to hear the update
EARLIER
A huge blaze at a factory in Melbourne's west has poured smoke across the western suburbs and put thousands of residents on high alert.
Fire crews were first called to the West Footscray factory, believed to be a former woolshed off Somerville Road, about 5am.
Nearby residents were woken by large explosions.
Although the fire has been contained, the latest advice is that firefighters hope to have the blaze "safe" by 4pm.
More than 20 fire trucks and about 140 firefighters are on scene.
The enormous amount of smoke has prompted a Watch and Act warning for residents in Altona, Altona East, Altona Gate, Altona North, Brooklyn, Footscray, Kingsville, Newport, Port Melbourne, Seaholme, Seddon, South Kingsville, Spotswood, Sunshine, Tottenham, West Footscray, Williamstown, Williamstown North, Yarraville..
"Anyone located in the vicinity of the smoke plume to the South east of the fire should take shelter indoors immediately," the Vic Emergency warning read.
"Remain clear of the incident area and areas impacted by the smoke plume."
Schools across Footscray, Yarraville, Sunshine West, Sunshine, Kingsville and Brooklyn are closed.
The cause of the fire and what's burning inside the factory is not yet clear.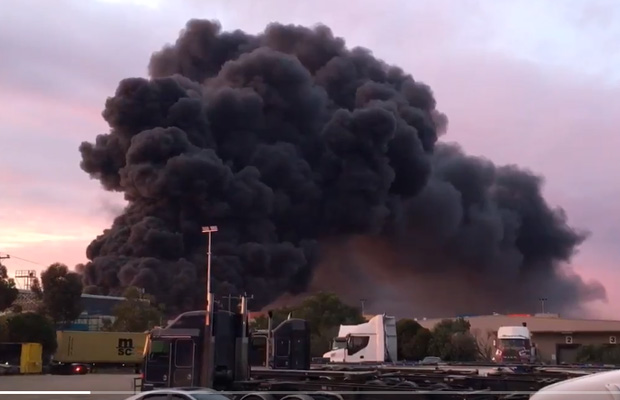 Somerville Road and surrounding roads have been blocked all morning.
Emergency Management Commissioner Andrew Crisp told Neil Mitchell why residents were not contacted with advice.
"We haven't used emergency alerts for this particular incident, we generally use those alerts for immediate threat to life," Mr Crisp said.
"The plume is travelling quite high and then blowing south.
"It's working in our favour, the plume is rising and blowing away.
"It is due to rain later today."
Click PLAY below to hear the details
Tim sent Neil Mitchell the below footage from the Altona Gate Shopping Centre.
West Footscray warehouse fire still burning out of control more than 5.5 hours after it started. Five Catholic schools have been closed, 'watch and act' message in place for several suburbs due to the smoke. Smoke has made it all the way to Arthur's Seat. @3AW693 pic.twitter.com/lP5AmZhZ90

— Pat Mitchell (@patty_mitchell) August 30, 2018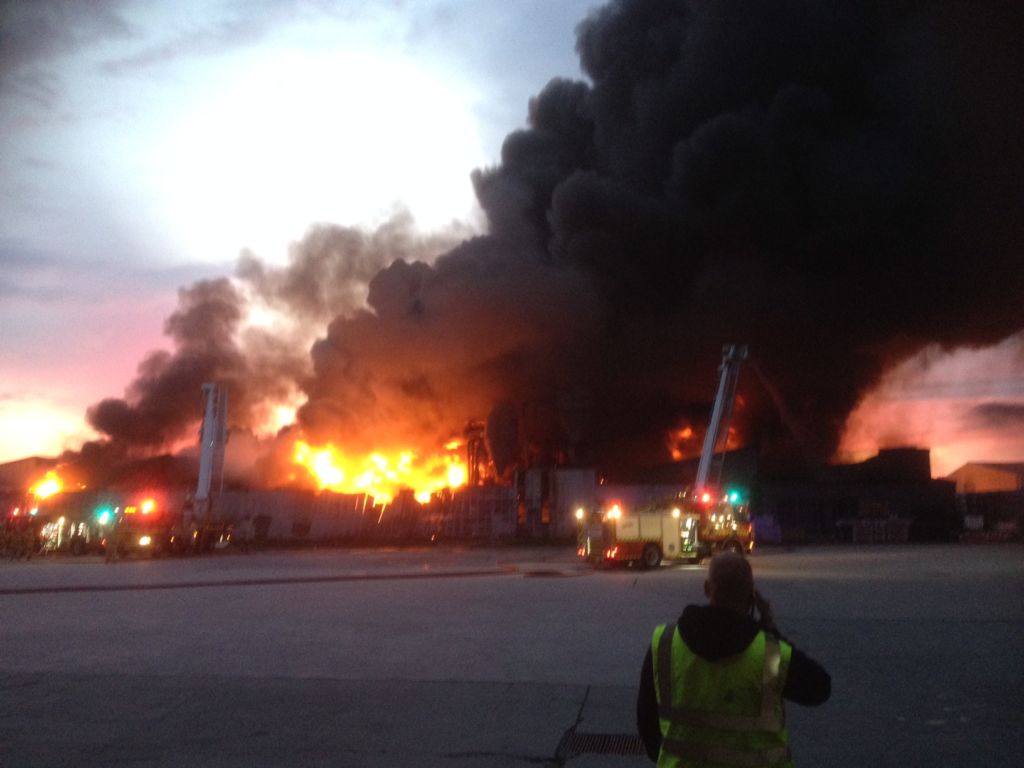 Photo: 3AW listener Frank
3AW listeners called in with sightings from as far as Melton.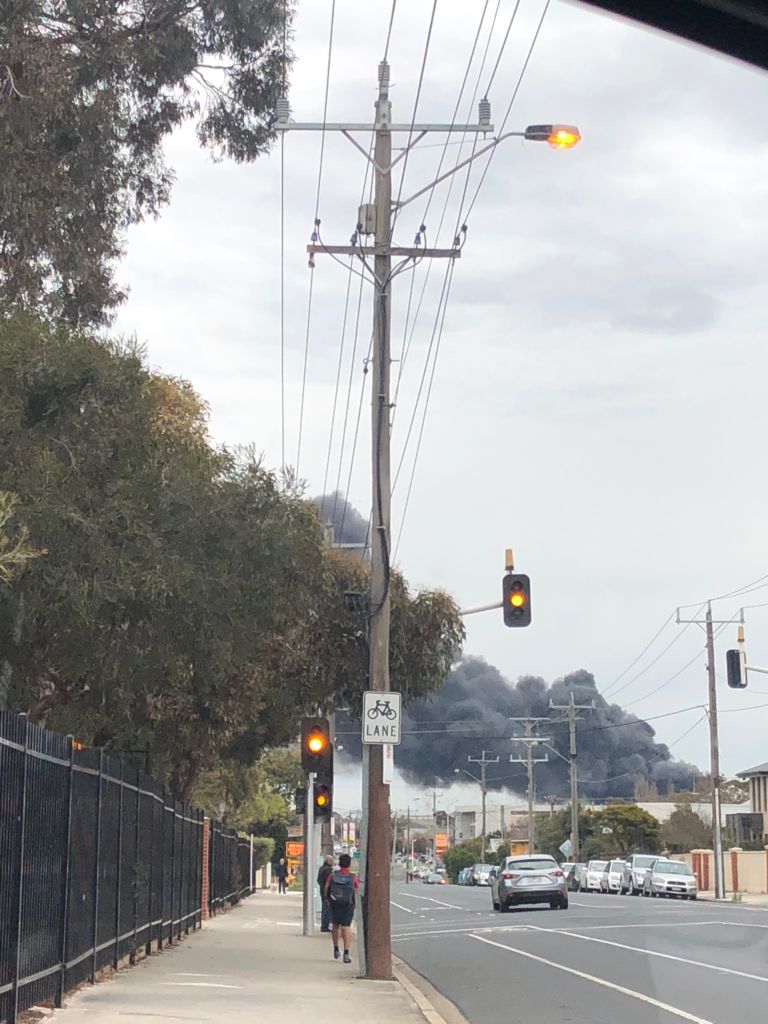 Above: Neil Mitchell listener Robyn sent this photo from outside Kingsville Primary School 
@RossAndJohn a picture of the fire just before landing from Japan pic.twitter.com/id4GrWzne4

— AJ (@adriancata) August 29, 2018
Listeners report seeing the flames and smoke from the West Footscray fire from as far away as Newport, Deer Park, and even this pic taken from Melton. pic.twitter.com/cBMxq2h0gG

— 3AW Breakfast (@RossAndJohn) August 29, 2018
@RossAndJohn from Flemington Racecourse pic.twitter.com/Rpl2DWk35v

— Mathew Ellerton (@EllertonMathew) August 29, 2018
@3AW693 out of my window West Footscray pic.twitter.com/0HSlgSLsmh

— wayne (@wayne19691969) August 29, 2018
From my balcony in Altona North pic.twitter.com/DFWloclrgU

— Jason McCluskey (@JMM008) August 29, 2018
Factory fire in West Footscray continues to burn out of control. About two dozen fire trucks on scene, flare ups still visible, road closures in place and warnings issued for several suburbs (to the south) due to the smoke. @3AW693 pic.twitter.com/x41XlZaP2b

— Pat Mitchell (@patty_mitchell) August 29, 2018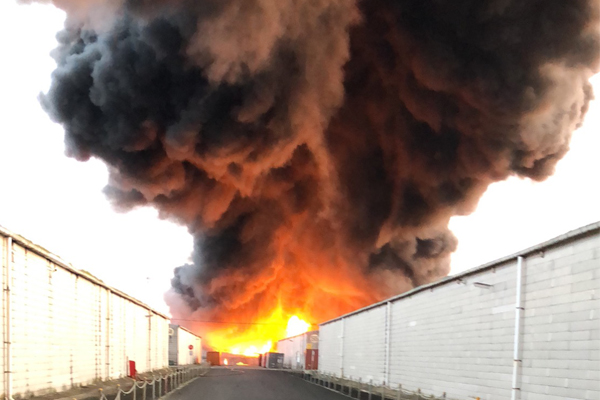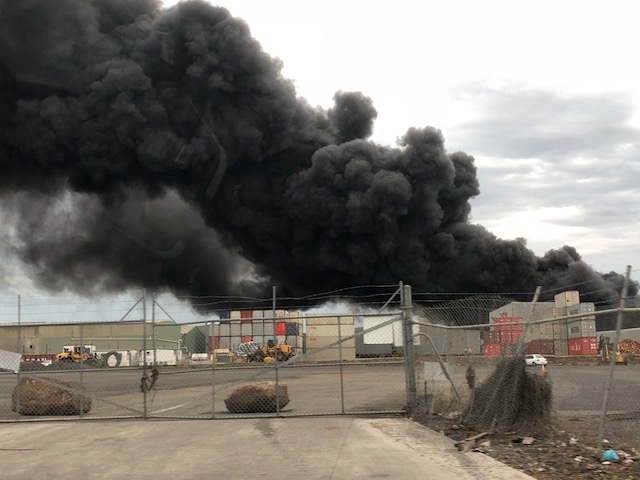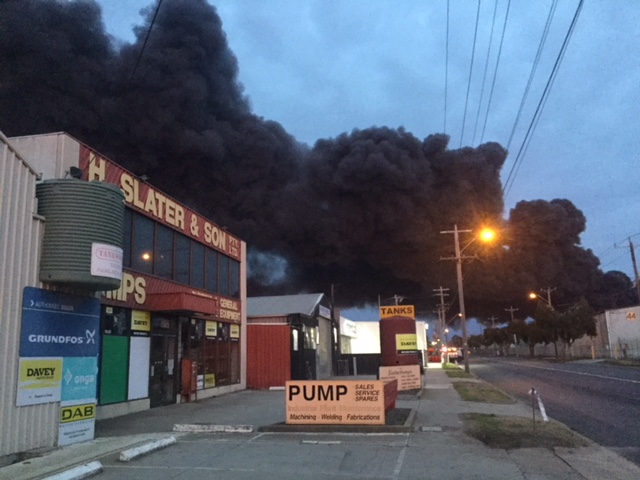 Above: The view from Eastern Beach, Geelong, from listener Dave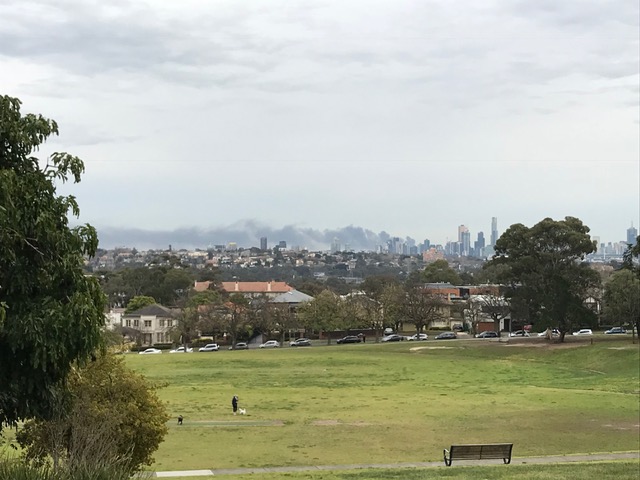 Neil Mitchell listener Geoff's photo of the smoke from Anderson Park, East Hawthorn, a full 15km away.
The smoke's path from Port Melbourne. Photo: Listener Jemma

A view of the smoke from the Queenscliffe . Photo: 3AW listener Otto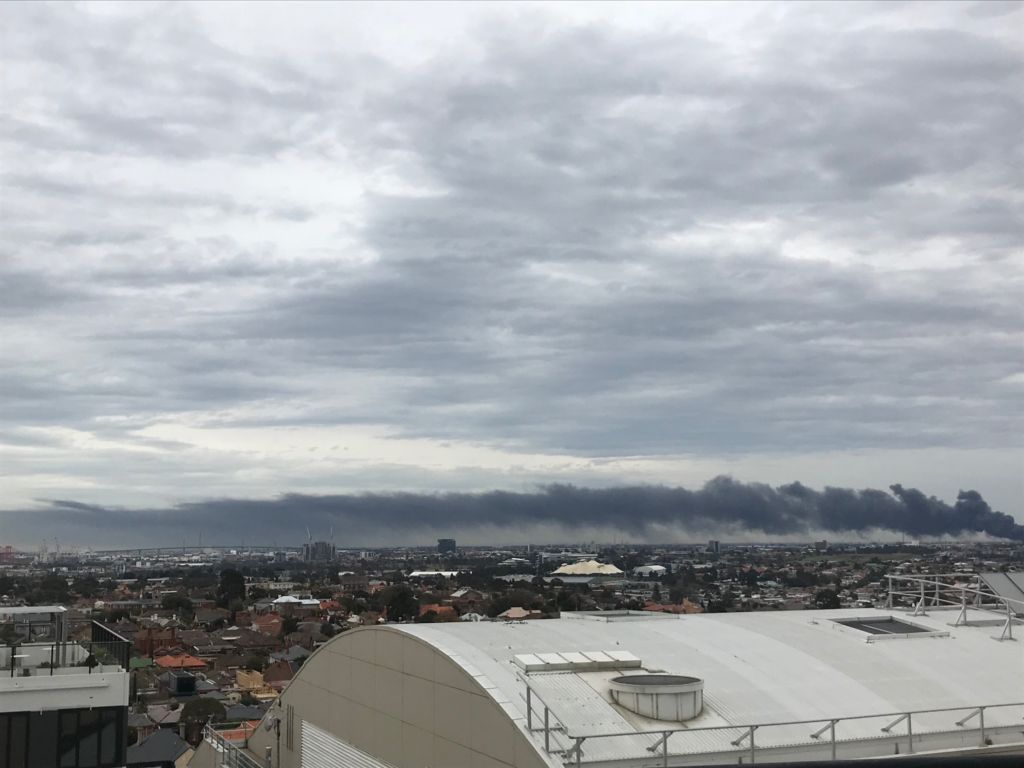 Above: 3AW listener Anne sent this photo of the view from Moonee Ponds about 8.54am