Max Gawn speaks with Neil Mitchell about clash with Essendon fan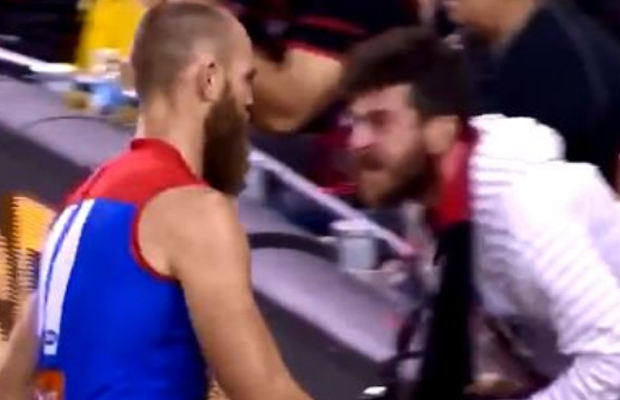 Melbourne ruckman Max Gawn says he doesn't want the fan who launched an abusive verbal attack at him over the fence at Etihad Stadium banned from games.
The Essendon fan was caught on camera leaning over the fence and screaming in the face of Gawn during Sunday's clash between the Bombers and Demons.
After speaking with police, the fan in question left the ground.
He has since apologised and been issued a "first and final warning" by the Bombers.
There had been calls for him to be banned from AFL games.
However, speaking with Neil Mitchell, Gawn said he didn't want that to happen.
"I can understand the passion that's there in the crowd," Gawn said on 3AW Mornings.
"I have the same sort of passion sometimes towards opposition players and umpires and even fans, as well.
"We all get caught up in the moment every now and then.
"I'm sure he regrets it, I think he's come out and said that.
"Hopefully he can be better next game."
Max Gawn had the last laugh with this over-enthusiastic fan after slotting a banana from the boundary. #AFLDonsDees pic.twitter.com/BWCQAZOFW5

— AFL (@AFL) April 29, 2018
Gawn said the incident was "water off a duck's back" and he wasn't really offended by what happened.
The man issued a formal apology on Monday afternoon.
"I am truly sorry and embarrassed by my behaviour," the fan said in a statement released by the Bombers.
"Watching that back on TV I was sickened by my outburst especially as there were women and children nearby.
"I now realise that Max Gawn was just doing his job playing football and my actions were terrible.
"This has made me look at myself and realise never to behave like that again. I would like to apologise to Max Gawn for my behaviour and also to my family who have been embarrassed and ashamed of my behaviour.
"I would also like to apologise to Essendon Football Club for my actions as it embarrasses and affects the club I love."
Click PLAY below to hear more on 3AW