CONFIRMED: You won't believe what a woman did after her dog did this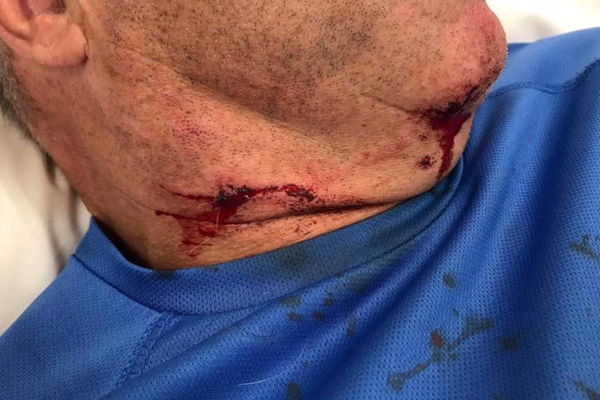 RUMOUR FILE CONFIRMED
The Rumour File this morning heard of a vicious dog attack in a bayside suburb at the weekend, which resulted in a man requiring surgery after sustaining deep bites to his hands and throat.
And the owner of the dog fled the scene.
Cam McIntyre, the victim of the attack, was walking his dog in Brighton on Saturday when the larger dog "wraps it's jaws around my dog's head".
"It was such a big , brutal savage dog … the owner just had no control over it," he told Ross and John.
Cam understandably did his best to pull his Labrador (Mick, pictured below) clear – "and then their dog just savagely ripped into me".
The dog even lunged at Cam's throat at one stage (as per images above and below).
That's bad enough.
But then the owner of the attacking dog "just sort of disappeared".
Click PLAY to hear Cam chat with Ross and John
Leading Senior Constable Anthony Reid from the Bayside Police confirm they are looking for an Asian female between 25-30 years old in relation to this incident.
The black dog is described as looking like a bull terrier weighing approximately 35-40kg.
Any information to Crime Stoppers on 1800 333 000.  

Mick the dog (above) is recovering well.