THE ASHES LIVE! All the action from Day 4 at the SCG.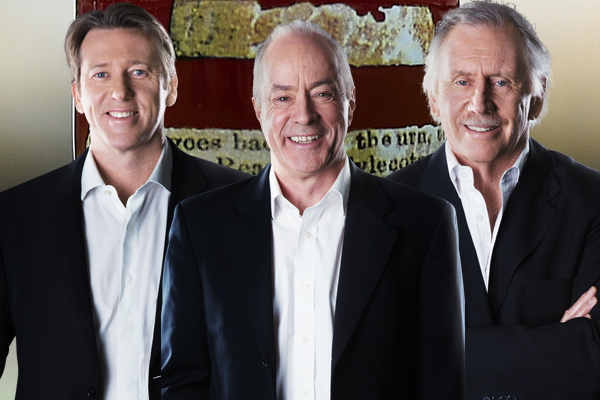 MACQUARIE'S SUMMER OF CRICKET LINE-UP: Mike Hussey, Greg Matthews, Ian Chappell, Glenn McGrath, John Emburey, Geoff Lawson, Tim Lane, and Bruce Eva.
=======
Stumps! 
England have limped to stumps having lost four wickets in their pursuit of Australia's target of 303. They have forced a fifth day as defeat looks imminent and a day where the Ashes Urn will be returned to Australian hands.
Joe Root and Johny Bairstow are 42 and 17 respectively overnight and will resume in the hope they can by some divine miracle bat the day out and save England from a 4-0 capitulation in this series. The visitors ended the day 4/93
Nathan Lyon took two crucial wickets for the Australians, while Pat Cummins and Mitchell Starc chimed in with one wicket each.
Earlier, three Australian batsmen passed 100 with Usman Khawaja out yesterday for 171 whilst Shaun Marsh and brother Mitch became the fourth set of brothers to score centuries in the same innings of a Test Match. Mitchell scored 101 before getting bowled by Tom Curran and Shaun was burned by Tim Paine – run out for 156.
Day 5 will see a result either way and the Australians end the day with that precious Urn back in their possession once again.
=======
Catch up on all the news from Day 4 at the SCG
=======
CUMMINS STRIKES AFTER TEA
Pat Cummins has taken the big wicket of James Vince just after Tea as the Australians look to wrap up the series on day 4.
Cummins pinned Vince on the back foot – forcing him to drive, and edging to Steve Smith at slip to end his series with a score of 18.
Australia now require 7 wickets to win the match with another full day to come tomorrow. Joe Root and Dawid Malan are currently at the crease trying to dig in and by some miracle save the Test.
=======
TEA! 
Australia on top at Tea getting two quick English wickets before the tea break on Day 4. Mitchell Starc and Nathan Lyon removed both English openers cheaply to have England in trouble at 2/25.
=======
AUSSIES STRIKE EARLY! 
Mitchell Starc has picked up Mark Stoneman early in the English second innings – trapping the English opener LBW for a duck.
Starc has bowled with real heat and it was clear that Stoneman and Cook were uncomfortable throughout their innings.
Nathan Lyon has claimed the wicket of Alastair Cook – bowled after missing a quicker one from the Aussie off spinner.
BOWLED!

Alastair Cook has been bowled by Nathan Lyon – that ball turned a fair way clipped the top of off stump.

England 2/15 #Ashes

— Macquarie Cricket (@MRNCricket) January 7, 2018
=======
Australia Declares! 
Australia have declared on Day 4 with a lead of 303 after posting a massive total of 649 thanks to centuries from Usman Khawaja, Shaun Marsh and Mitchell Marsh.
England were able to take 7 wickets with Australia teeing off after the lunch break helping them to seven Aussie wickets.
Australia will try to now bowl England out and force a result without having to bat again this match.
=======
Shaun Marsh Burned! 
Shaun Marsh has been absolutely burned by teammate Tim Paine – run out for 156.
Paine defended a ball to cover and immediately called Marsh through for a run. Mark Stoneman gathered quickly and hit the stumps direct from side on with Marsh a long way out of his crease.
It was a glorious innings by Marsh who scored his sixth Test Century and what was probably his best.
=======
LUNCH! 
Shaun Marsh has continued his good form this series – going into the lunch break 145 not out after scoring his sixth Test Century earlier in the day.
Marsh and brother Mitch put on a 150+ run partnership before Mitch was bowled the next delivery after scoring his second century.
There have been three Australian century makers in the first innings and England have taken just 5 wickets for the match.
It is currently 42.3 degrees in Sydney today – making the conditions nearly unbearable at the moment. Australia will hope that conditions get better when they bowl later today.
Australia lead by 232 runs at the break on Day 4.
=======
Ecstasy to Agony for Mitchell Marsh 
Mitch Marsh has gone through a wide range of emotions within two balls – after scoring his second Test Match century and celebrating accordingly – Marsh was dismissed the next ball.
Tom Curran got the ball to shape in beautifully and keep a bit low as well, to knock over Marsh's off stump. Dismissed for 101. It would have been a relief for Marsh to get the century, but he would also be very disappointed that he couldn't go on an make a big score on a pitch that is suited to batting on Day 4.
Mitch and brother Shaun become the fourth set of brothers to score Test Centuries in the same innings joining the Waugh's, Chappell's and Mohammed's.
Relive the excitement and anguish right here!

=======
Shaun Marsh has brought up his sixth Test Century in the first over on Day 4 with a lovely cover drive for 4.
Marsh has been outstanding in this series and is a certainty now to be on the plane to South Africa in March.
Mitch Marsh is looking to emulate big brother Shaun, looking strong on 67 not out and will hope for Test century number 2 as Australia look to build a huge lead and bat England out of the game.
MARSH TON!

Shaun Marsh has scored his sixth Test Century on Day 4 at the SCG!

Blasted it through the covers for 4! What a knock for Marsh! #Ashes

— Macquarie Cricket (@MRNCricket) January 6, 2018

=======
DAY 4 PREVIEW 
This tour continues to get worse and worse for the visitors – who only took two wickets on day 3 at the SCG. Usman Khawaja got on top of them early to post his sixth Test Century, while Shaun Marsh is only two runs away from his sixth century in the long form of the game.
The only positive for the English was the performance of debutante Mason Crane who toiled away bowling 39 overs yesterday and picking up his first Test Match wicket – that of Usman Khawaja who was stumped on 171.
Australia are 133 ahead and will likely bring an aggressive approach to day 4 in a bid to bat only once in this match. A lead of 250-300+ would likely satisfy the Australian side which will allow them to bowl aggressively and end England's Test series on a low note. The urn is not far from being returned but the Australians will hope they can get a 4-0 scoreline and not have this game turn into a disappointing draw.
Keep clicking back to catch up on all the latest from the SCG on what should be an exciting penultimate day of the Test summer.
=======
Catch up on all the action from Day 3 at the SCG! 
=======
If you missed any of the exciting action from Day three, you can re live it by clicking on the link below.
RECAP DAY 3