Tom Hawkins suspended for jumper punch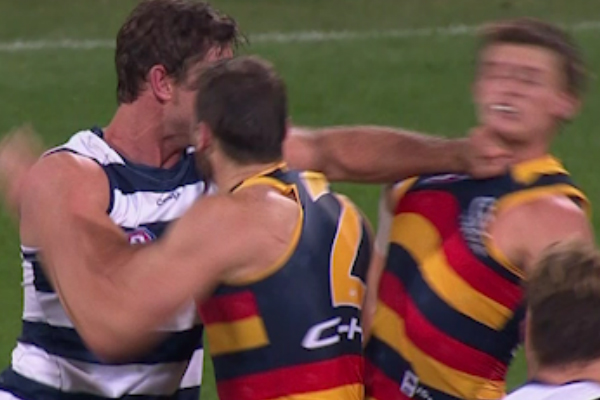 Geelong forward Tom Hawkins has accepted an early plea for his jumper punch on Adelaide's Matt Crouch.
He will miss the Cats' round 13 clash against West Coast in Perth.
The incident has been a source of much debate, after the AFL warned players the jumper punch was not on.
Caller Shane, an Auskick coach for Under 10 and Under 15 girls, and father of two young boys, voiced his concern of young kids mimicking their idols.
"When the boys watch the football, and they see a jumper punch or whack in the guts, they don't differentiate what constitutes a fine and what should get a penalty," Shane told Football Preview on Saturday.
"The flow down to junior football is enormous."
He said the responsibility stems from the AFL to local coaches to stamp out such incidents.
Click PLAY below to hear Shane's call.
Click PLAY to hear how Matthew Lloyd saw the incident on Friday night