West Footscray fire: Blaze under control, but 19 suburbs remain on smoke alert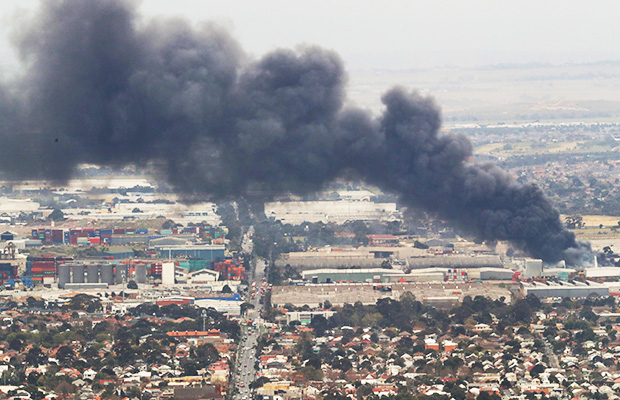 The West Footscray factory fire has been declared under control but continues to blanket several suburbs in smoke.
Firefighters have spent the night extinguishing the blaze and will likely remain there for days to monitor conditions.
Aerosols and paint canisters are believed to be responsible for several explosions at the Sommerville Road factory that began about 5am yesterday.
Victoria's Chief Environmental Scientist Dr Andrea Hinwood told Neil Mitchell the EPA are advising locals to stay away from nearby creeks, as contaminated water from the fire fight has flowed into them.
"We certainly advise don't go near it, it smells, it is quite a strong smell," Dr Hinwood said.
"It's a complex mixture of different pollutants.
"We are expecting some fish killed.
"Because the plume was so buoyant yesterday and high, we actually didn't measure much on the ground.
"It's highly unlikely (people who were exposed to smoke will become ill)."
Click PLAY below to hear the update
A Watch and Act warning remains in place for 19 suburbs — Altona East, Altona Gate, Altona North, Brooklyn, Kingsville, Newport, Seaholme, South Kingsville, Spotswood, Tottenham, Williamstown, Williamstown North, Altona, Footscray, Port Melbourne, Seddon, Sunshine, West Footscray and Yarraville.
Weather forecasters say gusty winds from the north will continue this morning, pushing the acrid smoke over suburbs to the south of the blaze.
Emergency Management Commissioner Andrew Crisp told Ross and John the fire needs to be deemed safe before the cause of the fire can be determined.
Click PLAY to listen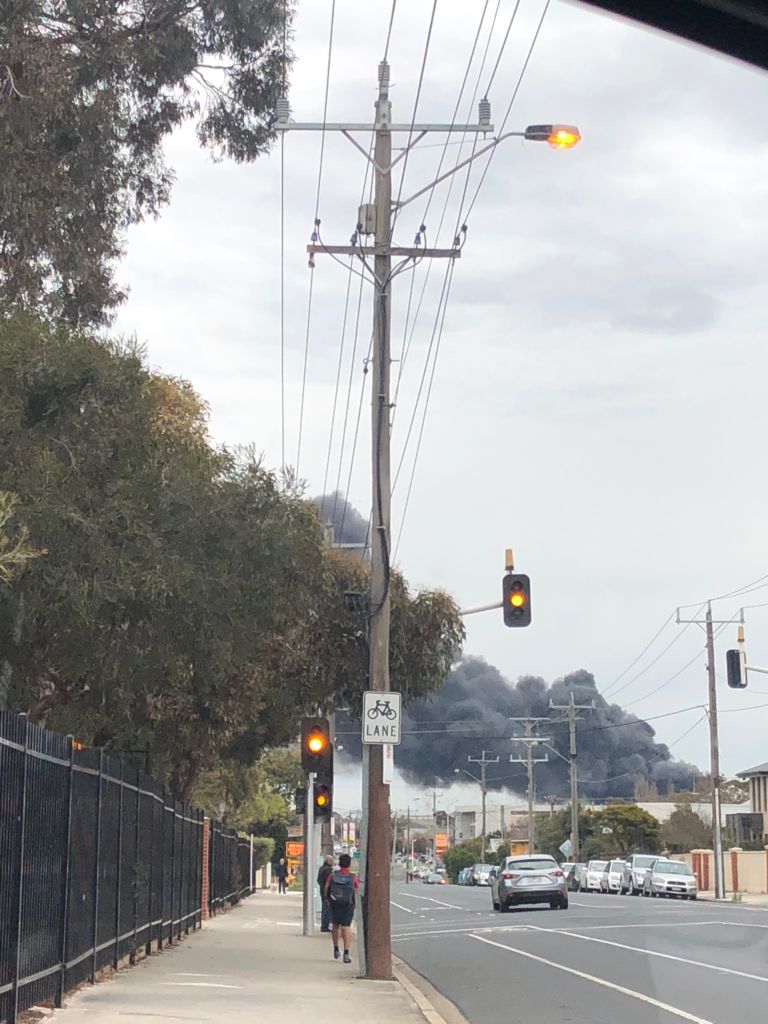 Above: Neil Mitchell listener Robyn sent this photo from outside Kingsville Primary School 
@RossAndJohn a picture of the fire just before landing from Japan pic.twitter.com/id4GrWzne4

— AJ (@adriancata) August 29, 2018
Listeners report seeing the flames and smoke from the West Footscray fire from as far away as Newport, Deer Park, and even this pic taken from Melton. pic.twitter.com/cBMxq2h0gG

— 3AW Breakfast (@RossAndJohn) August 29, 2018
@RossAndJohn from Flemington Racecourse pic.twitter.com/Rpl2DWk35v

— Mathew Ellerton (@EllertonMathew) August 29, 2018
@3AW693 out of my window West Footscray pic.twitter.com/0HSlgSLsmh

— wayne (@wayne19691969) August 29, 2018
From my balcony in Altona North pic.twitter.com/DFWloclrgU

— Jason McCluskey (@JMM008) August 29, 2018
Factory fire in West Footscray continues to burn out of control. About two dozen fire trucks on scene, flare ups still visible, road closures in place and warnings issued for several suburbs (to the south) due to the smoke. @3AW693 pic.twitter.com/x41XlZaP2b

— Pat Mitchell (@patty_mitchell) August 29, 2018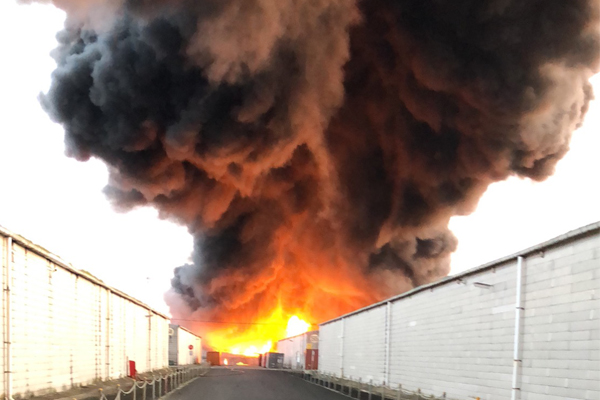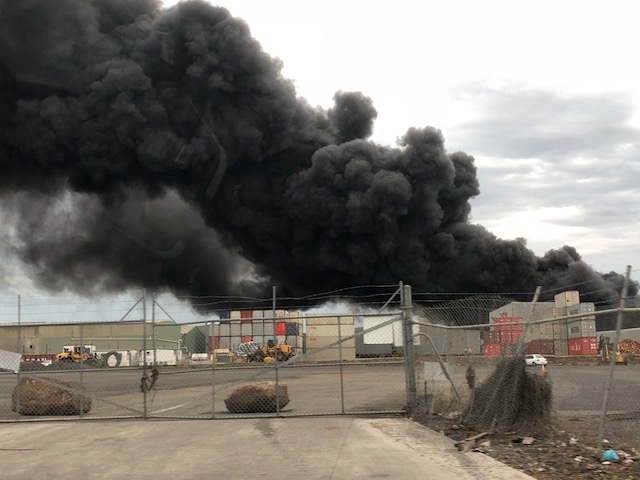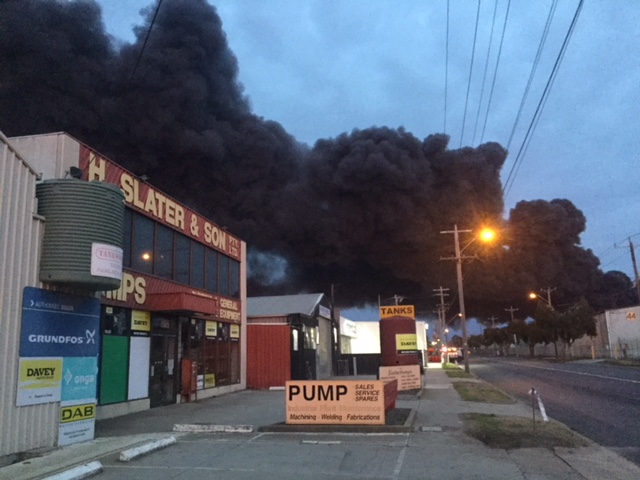 Above: The view from Eastern Beach, Geelong, from listener Dave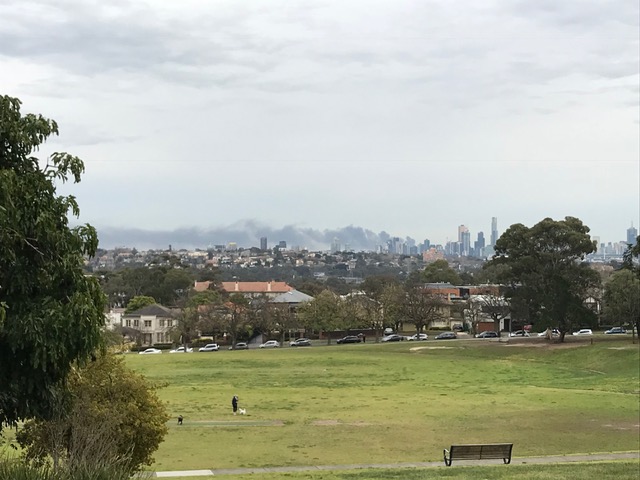 Neil Mitchell listener Geoff's photo of the smoke from Anderson Park, East Hawthorn, a full 15km away.
The smoke's path from Port Melbourne. Photo: Listener Jemma

A view of the smoke from the Queenscliffe . Photo: 3AW listener Otto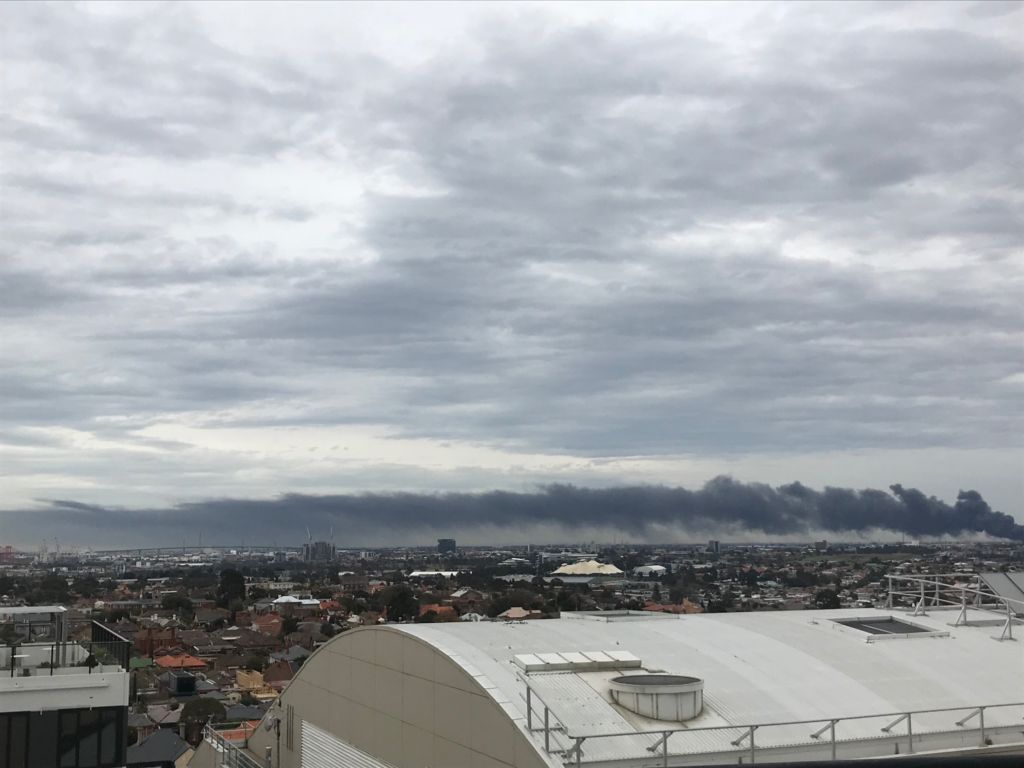 Above: 3AW listener Anne sent this photo of the view from Moonee Ponds about 8.54am