2017 OVERVIEW: Pub Of The Week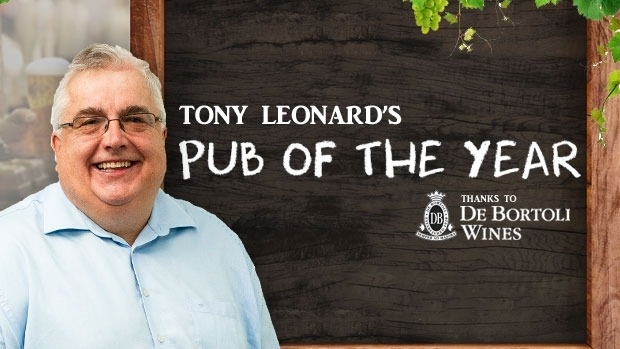 Welcome back for my 22nd year of presenting the Pub Of The Week segment with Neil.
Each Friday, around 11.40, I will share my thoughts on the pub that I have been to, and soon after, a written review will appear in the Lifestyle section of the 3AW website.
Thank you again for all feedback over the years, and obviously keep suggestions coming in to me, via email. My address is tony.leonard@macquariemedia.com.au and I will answer all of them.
Since starting this in 1996, most suburbs have been covered off, but if you know of a pub which is family operated that is going very well, then please contact.
I have said before that I prefer pubs that don't have pokies, but the reality is in the expanding outer suburbs these are part of the package. If you believe they are making an effort then let me know.
Best endeavours always to go to pubs in regional areas (as long as reasonably accessible – up to 75-90 mins from Melbourne) and already some suggestions in for good old boys in Ballarat.
The essential elements of good beer/food/beer/comfort/hospitality and community are still the basics that all of us look for in a great pub and as is the case, trying to find some genuine value along the way.
Points of difference, (especially in wine lists), excellent service, clean premises  are always highly regarded by me.
The scoring is still out of 20, (food takes up 50% of my score). In my opinion, any pub getting 15+ has something special going for it..
No pub, unless there is a major revamp or significant change in ownership, is re-reviewed under a three-year period.
Whilst I like to do about 22-25 new pubs each year, it may be back to a 50/50 given the number that have been done over this period of time.
To reiterate, pubs are chosen weekly, at random and there is a preference for independent owner/operators.
The hardest thing to estimate is what represents 'average' in pricing.
Last year, the sticking point came with wine pricing whereas getting a choice of a half decent bottle in the $30s was plentiful say two years ago, now the marker is in the 40s.
If we take the humble chicken parma as the guide, the average is $25, house burger $19-21 and steak is $30.
The figures are rubbery I hasten to add! And naturally it varies from venue to venue.
I look forward to all of your comments/suggestions! Thanks again to Vince Gurcuilo and the team at De Bortoli, sponsors of Pub of the Week since 1990.
PUBS OF THE WEEK 2017
DATE / PUB / SCORE
January 27: Pascoe Vale Hotel – 13.5
February 3: Clare Castle, Port Melbourne – 13
February 10: Hotel Lincoln, Carlton – 15
February 17: The Provincial Hotel, Fitzroy – 13
February 24: The Elsternwick Hotel, Elwood – 10.5
March 3: The Royal Standard Hotel, West Melbourne – 14.5
March 10: The Cornish Arms Hotel, Brunswick – 13.5
March 17: Healesville Hotel, Healesville – 15
March 24: NO REVIEW (Grand Prix)
March 30: The Leinster Arms, Collingwood – 15
April 7: Golden Fleece Hotel, South Melbourne – 14
April 14: NO REVIEW (Easter)
April 21: Bayswater Hotel, Bayswater – 10
April 28: Shaw Davey Slum, Carlton – 12.5
May 5: DeBortoli Pubs of the 1st quarter (27 January – 28 April 2017)
May 12: Pakenham Hotel, Pakenham – 14
May 19: North Britain Hotel, Soldiers Hill – 14
May 26: Beehive Hotel, Hawthorn – 14.5
June 2: Brandon Hotel, Carlton North – 15
June 9: Gamekeepers Secret Inn, Plumpton – 14
June 16: Deer Park Hotel, Deer Park – 12
June 23: Ranges Hotel, Gembrook – 15
June 30: Water Rat Hotel, South Melbourne – 14
July 7: Spencer Hotel, West Melbourne – 12.5
July 14: NO REVIEW
July 21: The Great Northern, Carlton North – 15
July 28: Centra Hotel, Geelong – 15
August 4: Magpie and Stump, Wandong – 12
August 11: Tower Hotel, Hawthorn East – 14.5
August 18: Powell Hotel, Footscray – 11
August 25: Cricketer's Bar and the Windsor – 14.5
September 1: DeBortoli Pubs of the 2nd quarter (12 May – 25 August 2017)
September 8: London Tavern, Richmond – 14.5
September 15: Barklys Hotel, Heidelberg – 13.5
September 22: North Melbourne Hotel – 15
September 29: No review due to AFL GF Parade.
October 6: Prahran Hotel, Prahran – 15
October 13: Inkerman Hotel, Balaclava – 13.5
October 20: NO REVIEW.
October 27: The Stone Hotel, Fitzroy – 13.5
November 3: The Munster Arms Hotel, Ballarat – 14
November 10: All Nations Hotel, Richmond – 15
November 17: NO REVIEW.
November 24: Dr Watson's Bar, CBD – 13
December 1: Stella's Dromana Hotel – 13.5
December 8: DeBortoli Pubs of third quarer (September 1 – December 8)