Adrian Richardson's Italian lemon olive oil cake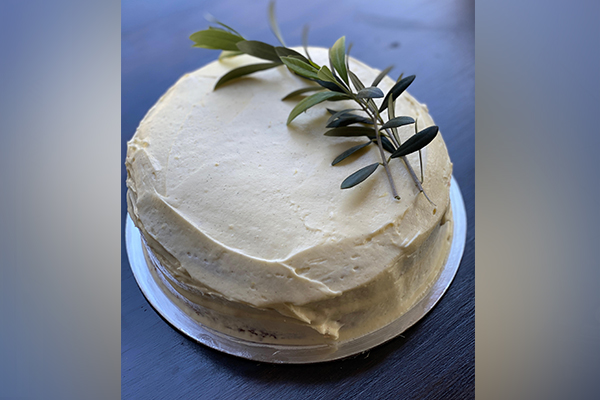 La Luna chef Adrian Richardson has yet another lockdown recipe!
This week's recipe makes use of lemons — which are in season and cheap at the moment.
Richo's Italian Lemon Olive Oil Cake
INGREDIENTS
To make the cake
1 cup Australian extra virgin olive oil
3 eggs, lightly beaten
1 1/3 cup milk
2 tablespoons fresh lemon juice
Zest of two lemons
2 cups caster sugar
2 cups self-raising flour
1 teaspoon baking powder
1/2 teaspoon baking soda
1 teaspoon salt
To make the lemon vanilla cream cheese frosting
150g butter, at room temperature
250g cream cheese, at room temperature
4 cups icing sugar
¼ cup fresh lemon juice
The zest from two lemons
1 teaspoon vanilla essence
METHOD
Preheat oven to 165 degrees C.
In a large mixing bowl, add oil, eggs, milk, lemon juice, and lemon zest.
Whisk together.
In large bowl, add sugar, flour, baking powder, baking soda, and salt.
Stir into egg mixture and fold together to a smooth batter.
Spray two 25 cm cake pans with non stick cooking spray or line with baking paper.
Pour batter into baking pans.
bake for 30-35 minutes. until toothpick comes out clean
Cool on a wire rack.
To make the frosting
In a food processor or mixer, mix cream cheese, butter until smooth
Add icing sugar, lemon juice, vanilla and lemon zest and mixt until smooth
Chill until ready to use
To assemble cake
Remove cakes from pan.
Spread frosting on top of one cooled cake layer.
Place other cooled cake layer on top and spread frosting all over.
Pro tip: Spread lemon curd in the middle layer when assembling cake.
Adrian Richardson's quick and easy sticky date pudding with butterscotch sauce
Adrian Richardson shares the secret to perfect pork crackling
Adrian Richardson's baked chicken with milk, white wine, lemon & garlic