Adrian Richardson's raspberry and olive oil cake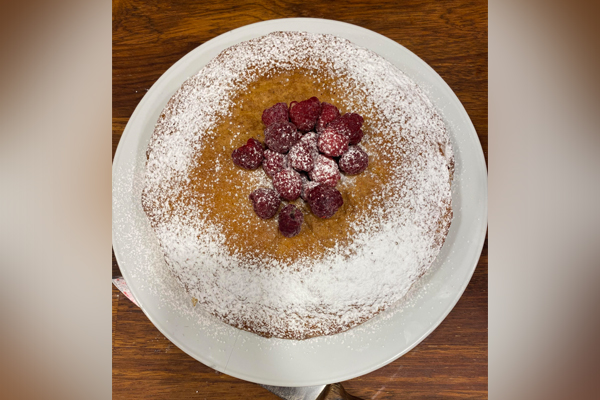 Every Friday, La Luna chef Adrian Richardson shares an easy recipe you can make at home.
This week, it's a simple cake you can make to use up any fruit that's ripening fast!
Richo uses frozen raspberries, but feel free to substitute the raspberries for any other fruit you have.
Richo's raspberry and olive oil cake
Ingredients
1 1/4 cups caster sugar
1 1/4 cups self-raising flour
1/2 cup milk
1/2 cup olive oil
4 eggs lightly beaten
1 cup raspberries, frozen (or sub for other fruit)
Method
Pre-heat oven to 160°C.
Place all the ingredients into a bowl (except the raspberries).
Mix until smooth.
Gently fold in raspberries.
Pour into a cake tin lined with grease-proof paper.
Bake for one hour.
Allow to cool until just warm and turn out of the tin.
Serve with cream or ice cream.
Press PLAY below to listen to Adrian Richardson on air.
Adrian Richardson's baked chicken with milk, white wine, lemon & garlic