Pub Of The Week: Tony Leonard's second quarterly review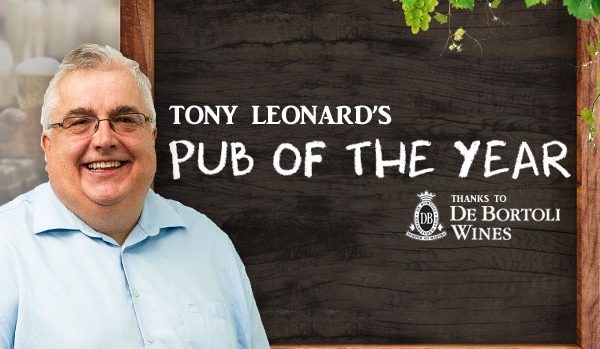 DeBortoli Pub Of The Week (SECOND QUARTER REVIEW)
May 11 – August 31, 2018
The second quarter for DeBortoli Pub of the Week threw up some choices in style and cuisine but overall – save sadly for a much loved pub – the offers in my opinion all passed muster.
The majority of the pubs in this period price fairly and are welcoming.
The pubs are without pokies and in the majority do not carry TAB.
From an historical point of view, the trip to the Warburton Hotel was fascinating to visit the place of old Sam, 'who allus has wan at 11'
To that end owner/operators are doing their utmost to win business and it is well worth going into the pubs websites – publicans,  please make sure they are up to date – to see when specials are being offered.
The first monthly nominations from January to April were;
Before naming the top 3, here are some thoughts on the first quarter;
THE GOOD:
Hallelujah. In a pub version of the mythical King Canute, true believers are holding back the tide and continuing to trade in spite of insane offers for their dwellings.
The Retreat and Park in Abbotsford has resumed trading and the much loved Leinster Arms in Gold st will have a refresh and continue on as pub soon.
Well done to all 3 – Melbourne can't afford to bastardise its heritage any longer when it comes to pubs.
Sydney sees the value in its old pubs; why not us?
THE SO SO:
I don't run a pub but the hallmark of service is options. Your pub, your rules but surely one tap of Carlton Draught won't shred your chic, urbane, cred.
Or will it? Here's a surprise:  You may sell more.
THE BAD:
To be fair, nothing really, although I can only implore pubs to continually revisit their websites.
Heavens there's a stack of prices/items that are no longer in play when the public turns up.
And again, (and I know its an old theme), owners go to sites that aggregate details of pubs and investigate yours.
Guarantee there's something out of date. As for punters, just ring.
PUBS OF THE MONTH SECOND QUARTER:
From the second quarter reviews (11/5 to 31/8/17), 3 pubs have been nominated;
 One the site of one of Melbourne's first gastro pubs,  Bobbie Peels in North Melbourne serves modern fairly priced short order food while having a massive range of craft beers, that they are undeniably proud. Burgers, Pastas, Sandwiches; you get the idea.  Good happy spot, modern soundtrack at the right level.
A few years back, they had a split of pub favs and asian meals as part of the deal: now it is overwhelmingly Asian and brilliant too. Great staff in a pub that has been redesigned with recycled materials and has a show stopping concrete slab bar.  Head outside in warmer climes for the unique beer garden with empty bottles hanging overhead.  At night a thing of beauty. This is very good.
Like Lazarus rising, this pub had significant areas affected by fire a few years back, but now without too much change is back and going gangbusters. Food is different, darkish areas provide for a bit of seclusion, great elevated views of the City and The Met – front or back – and this is a player in Melbourne.  So easy to like.
Summary:
All correspondence via email is read and when an answer is needed I will get back to you. All other other lifestyle reviews/recipes are contained at 3aw.com.au/lifestyle
Please keep comments and suggestions coming to tony.leonard@macquariemedia.com.au
This year's Pub Of The Year will be announced on December 14. Thanks again to the team at DeBortoli in my 23rd year of this segment.